CLEMENTINA. Capítulos 1 y 2

Constanza Feldman et Agustín Mendilaharzu
2020 / Argentina / Fiction / 40' – WORLD PREMIERE
Synopsis
Clementina is a series of short and medium lenght films, produced and shot entirely by two people during confinement due to the Coronavirus pandemic. The project is made up of five chapters, different in length and genre. This release includes the first two chapters.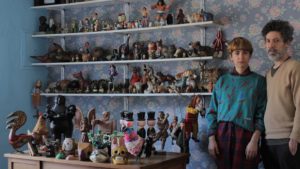 Biography
Agustín Mendilaharzu (Buenos Aires, 1975) is a member of El Pampero Cine and director of photography for films such as La Flor and Extraordinary Stories (M. Llinás) among many others.
Constanza Feldman (Tandil, 1986) is an actress, dancer and choreographer, with a long career in the performing arts of Buenos Aires.
The quarantine found them living together and turned them into a duo of film directors.
TECHNICAL SHEET

Script   Constanza Feldman, Agustín Mendilaharzu
Cinematographer   Agustín Mendilaharzu

Sound   Marcos Canosa

Editing   Miguel de Zuviría
Mix   Marcos Canosa

Cast   Constanza Feldman, William Prociuk, Agustín Mendilaharzu

Music   Original music by Gabriel Chwojnik
Sets   Constanza Feldman, Agustín Mendilaharzu
Production   Agustín Mendilaharzu